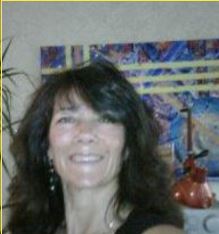 Cindy's education began in fine arts, however, took a different path when she became the sole supporter of her three children. With a degree in Psychology, minor in Biology, Masters Certificate in Health Information Management, her career over the past 23 years has been in healthcare technology. She worked for several corporations over the years and eventually started her own business. She's been, and still is, a volunteer fitness instructor at the YMCA for over 30 years.
Cindy continued to paint over the years, evolving styles from landscapes, portraits and realism to now abstract and abstract realism. The infusion of two contradictory styles inspired by music cultivated her JazzArt series, which are vibrant pieces of jazz scenes, musicians and music abstractions.
Cindy has donated many pieces of work to benefit non-profit organizations in healthcare, special needs and education, and continue to do so. In 2016, Cindy opened her studio Art by Cindy Lee in Nashua, NH. She also has studio space in Gallery 46 in Amherst, NH, and currently seeking space in Cornelius, NC. Cindy has been in several Art Walks, festivals and shows in New England and North Carolina.
In her workshops, Cindy enjoys working with students of all ages, those with no art experience at all, as well as fine artists who practice realism. Using the flow paint to release inhibitions and artist block, along with tapping inner creativity and mindfulness only produces positive outcome!
Exhibitions and Shows
2018 Old Town Cornelius Urban Art Festival, Cornelius, NC
2018 Old Town Cornelius Tawba Art Festival, Cornelius, NC
2018 Newburyport Art Walk, Newburyport, MA
2018 Beacon Hill Art Walk, Boston, MA
2017 Exhibit Space, Gallery 46, Amherst, NH
2017 Solo Exhibit, Rodgers Memorial Library, Hudson, NH
2017 Beacon Hill Art Walk, Boston, MA
2017, Souhegan Valley Chamber of Commerce, Amherst, NH
2016, Holiday Stroll, Picker Studio, Nashua, NH
2015, Art Walk, Picker Studio, Nashua, NH
2015, Holiday Stroll, Picker Studio, Nashua, NH
2015, Fund Raiser, Positive Street Art Production, Nashua, NH
2014, Art Walk, Picker Studio, Nashua, NH
2014, Holiday Stroll, Picker Building, Nashua, NH
Collections
Inglis Foundation, PA, Donation
Greater Lawrence Family Health, MA, Donation
Several Private Collections, NH
Private Collection, NC
Private Collection, VT
Teaching
Develop and conducted Discover Your Creative Minds paint workshops for adults, teens and at-risk young adults in my studio or at client sites.